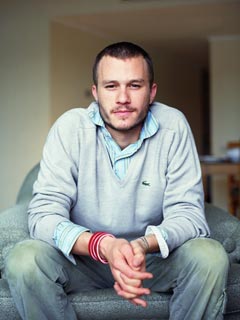 Health Ledger
is remembered this Friday as
his birthday
. He is supposed to be 29 if he did not die last January of accidental drug overdose. Many people still gripped after he passed away. What a big lost to the industry.
Kate Mara said that it was an honor to work with Ledger and he will be missed around. She costar with him in
Brokeback Mountain
as his older daughter. "I think he affected people that he'd not met before" she said. While in Australia there was no special for him like what the Ledger family. They considered it as a private affair. They kept a low profile and there was no mentioned in the News Paper.
Until now many friends of Ledger could not accept that he passed away because of overdose. Michelle Williams together with their daughter Matilda is keeping a low profile while Williams is having a busy shooting in Boston in the film "
Shutter Island
".
Meanwhile the investigation result will take more than three weeks before they could release the result as they still asked many questions to the doctors.