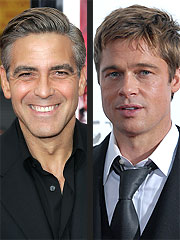 George Clooney who won two times as sexiest man alive is humble and down to earth when it comes to winning such standing but when it comes winning an
Oscar Award
, it comes to his head. He was a the winner of Best Supporting Actor in 2005 in the film "
Syriana
". The actor is in London for the promotion of his film
Leatherheads
costarring Renee Zellweger.
George told the press that he always brag his award to no less than
Brad Pitt
who was nominated as supporting actor in the movie
Twelve Monkey
but lost to Kevin Spacey in the film
The Usual Suspect
in 1995. George Clooney place the trophy near the fireplace and would invite his friends for a picture taking and giving an acceptance speech.
George Clooney was seen having a dinner with Matt Damon the current sexiest man alive. And when asked about his girlfriend, he replied that she is in Los Angeles and working.
By the way
Brad Pitt
together with
Ellen DeGeneres
, the talk show host is nominated in Webby Awards in Activism Category an award each for the participation in rebuilding New Orleans after Katrina Calamity.