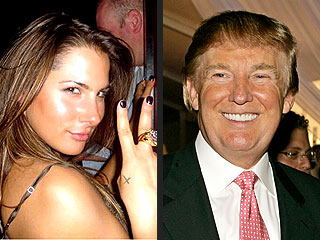 Donald Trump has a new reality show about women who are spoiled brats or having a problem and they will be put in a place like a boarding house or somewhere to lean new things. His new show is something like a
Fair Lady
or that will have a name "
Lady or the Tramp
" something like that. Now maybe to attract advertisers his company, according to rumors will include Ashley Dupre, the new famous high paid hooker or prostitute whatever you call her to be included in the said show. Many people raise their eyebrow when they new it. Ashley is of course the prostitute involved in Gov. Elliot Spitzer scandal.
Right now Donald can not be reached for confirmation or reaction. She is the perfect candidate according to the source, remember Donald has an experience in reforming women like what happened to Miss USA Tara Conner who likes to party and use drugs. He sent her to rehab to save her crown.
Will see what's next after all this is all about business. I am sure Rosie has something to say about this. Remember what she said before about
Donald Trump
when asked about Miss USA.